1728x1296
Artist Comment
Title: Fight for the Wish
Series: Dragon Ball / Z / GT
Characters: Dragonballs
Layers: 83
This was my first time experimenting with the Preset Shape Tool in PSP8. It made this vector fast and easy, not to mention a great learning experience that filled me with excitement. I picked the dragonballs to work with because I'd made a really really horrible vector of them in the past and I thought they needed fixing up! Trust me, they were PATHETIC before because I'd rushed em majorly... (If ya really wanna know how bad, ya can see here, but keep in mind, it's better now).
So basically I first made all the outlines of the balls, followed by making the stars. The stars are the only "fail" to me in the sense that I didn't try to get them to match with the curving of the ball, but rather just kind of stuck them on there. However, to my defense, throughout the whole series, all number of stars are always visible making it seem like they're 2D or representing 3D stars inside... *shrug* either way~ the stars are the stars... Moving on then! xD I next added the coloring effects and such for the balls (the yellow and reds) and made em basically just circles on top of each other which worked out easy/well. Lastly I made the darker orange shadow on all the balls.
After the actual vectoring of the balls, I moved on to Gaussian Blur for the shadows/colors. I did an Average Blur on the stars and highlight spots to make them blend in more but still stand solid and not blended.
In my files I stopped here and saved... however, after looking at it, I realized the colors were very.. bright compared to the ones that had been on my laptop. So I went through and Dodged the balls to make them lighter. (I considered and tried Gamma, but that didn't make em lighter in the way I was seeking).
The end product, you see before you.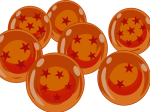 Unblended Version
Original Scan
Wallpaper: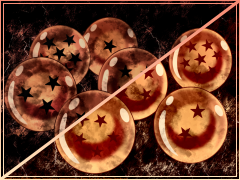 More Dragon Ball Indy Art
Browse Dragon Ball Gallery: Recent | Popular.
No comments yet
Only members can post comments, please register.