1600x1200 Wallpaper
Artist Comment
Title: Best Mess
Series: Prince of Tennis
Characters: Ryoma Echizen
My Comment: So I made this vector a long time ago (couple months now) and just couldn't figure out a background for it till now. For some reason I struggle to be able to make a background for my vectors >.<
Anyway, the name is Best Mess because I have two different meanings with this title. First is, he is obviously the best in my books, and the second is kind of like "don't mess with him." That would have been the title originally except it's much longer and Best Mess sounds better XD haha. Anyway, I basically just used different brushes for the background and my own personal vector and got this wallie. I love Ryoma! ?
It didn't take much time to make this, since I kind of literally just threw it together...but I think it turned out alright. I tried to make sure the green didn't get out of hand and that some of it tied into the green-ish-tint in his hair. At one point I came pretty close to the green over running itself (turning into a big green blob) so I just removed some layers I had thrown certain types of brushes on, and it started to regain its form. *shrug* not much more to say =O
Although this isn't my first wallpaper, it is the first I'm uploading to minitokyo...soooo yay? xD Lol. For some reason this site intimidates me a little more than others, so I wanted to make sure I only submitted what I thought were some of my better wallies. >...< Hope ya like it!
Vector: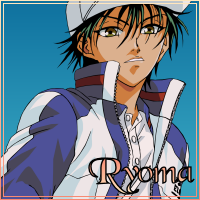 More Prince of Tennis Wallpapers
Browse Prince of Tennis Gallery: Recent | Popular.
Comments
page 1 of 1 4 total items
Only members can post comments, please register.